As the North American commercial printing market continues to tighten, production efficiency has never been more critical. One way printers are responding is by diluting set up charges by grouping numerous, similar print jobs on press at the same time.

Although this resurgence in gang run printing is promising, there are still barriers printers must contend with. The time and costs required to calculate ideal gang run impositions have been cost prohibitive, and the ability to manually calculate optimum groupings is a skill limited to only the most seasoned print estimators. Furthermore, traditional management software has been unable to effectively group jobs from multiples customers into the same imposition.

Thanks to Intraprint Corp. and its revolutionary INTRAPRINT MIS software, maximizing a press sheet is accurate, effortless, and no longer the exclusive domain of only veteran estimators.

INTRAPRINT's optional Gang Run feature automatically simulates and calculates the optimal imposition for each grouping of jobs with similar requirements. And it does it instantaneously with the highest level of accuracy every time.

By fully optimizing the press sheet, the gang run module enables printers to print more jobs with less stock waste in less time resulting in dramatic cost reductions.


Multiple Jobs, Maximum Profits

INTRAPRINT's gang run calculator works to save the printer money on a number of levels.

Firstly, at the original estimating stage (i.e. in the estimating module), an initial quote is generated taking into account any other products on the same paper, or similar products with variations (like a language variant), required by that customer. No longer does a customer need to wait for a printer's quote while an estimator manually mocks up numerous imposition scenarios to determine best price scenarios. The quote is instant and accurate, every time. Guaranteed.

At the order entry/job ticket stage, INTRAPRINT's gang run feature really shows its technological prowess. Here, the system proposes a list of pending orders from all customer jobs in the system waiting to be printed on the same paper. The customer service representative just drags and drops the jobs he/she wants to group together onto the on-screen "plate." Intraprint instantly re-calculates and displays the optimal new imposition. Once accepted, a new "parent" job is automatically created containing each individual order. With INTRAPRINT's new JDFActivelink module, the imposition layout can even be automatically sent to the printer's imposition software (for example CREO PREP'S©) using JDF files.

In the production management module, the cost both for the mother job is determined as is the cost of each individual job based on the surface occupancy each product occupies. This allows the company to evaluate the true costs of its grouped print jobs and extract valuable information from the management system for accounting, management, and reporting purposes, leading to continuous improvements in the organization.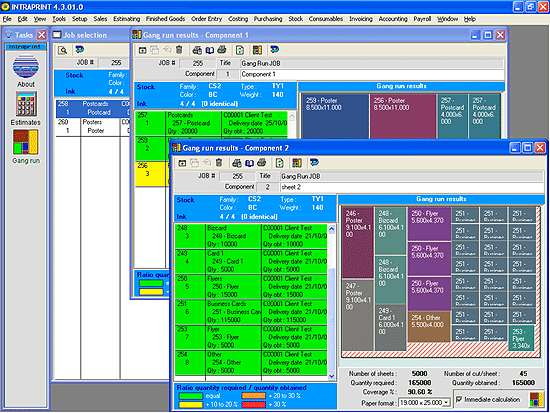 Intelligence is Power
INTRAPRINT's gang run intelligence not only calculates optimal utilization based on basic specs like product size and quantity, but also takes into consideration other variables such as product type (flat vs. folded products), custom bleeds, grain direction, and work and turn/ work and tumble requirements.
Armed with the ability to confidently quote, plan, and print similarly-specified jobs, INTRAPRINT customers with the gang run feature maximize their press sheets - and their profits - every time.